TikTok made them buy it! The #1 and #7 sellers on Amazon's Q4 2022 list of Top 25 Beauty & Personal Care Products were straight out of TikTok influencer Alix Earle's list of top 2022 Amazon purchases. Topping the list was Mielle Organics Rosemary Mint Scalp & Hair Strengthening Oil, making its first appearance on the Top 25 list after selling on Amazon over 3 years and acquiring almost 19K reviews. At #7 on the list is another Alix Earle pick, Pimoys 6 Pieces Powder Puff Face Soft Triangle Makeup Puff.
The other new item to the list was Laneige Lip Sleeping Mask, the only new prestige item to make the list in 2022. Paula's Choice 2% Salicylic Toner was #4 on the list, its highest placement ever. The rest of the Amazon Top 25 Beauty & Personal Care chart was dominated by tried-and-tested favorites that had sat on the list all year. Mighty Patch pimple patches, Essence False Lashes Mascara, and Neutrogena Face Wipes rotated in the top three spots throughout 2022, only giving way to one-off viral hits that never returned to the Top 25, like the Dermora 24K Gold Eye Masks of Q3 2022 and the Arvazallia Hydrating Argan Oil Hair Mask of Q2 2021.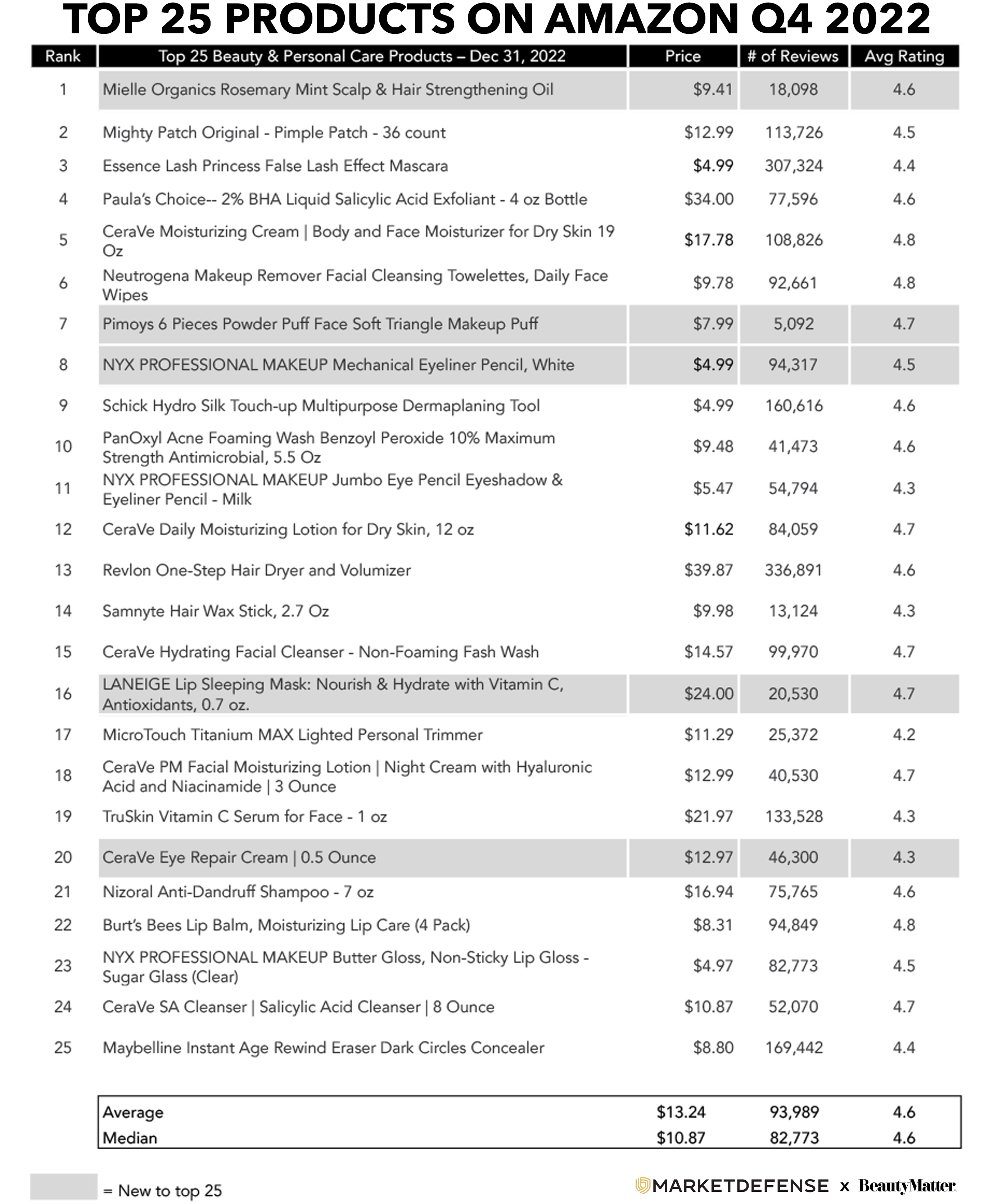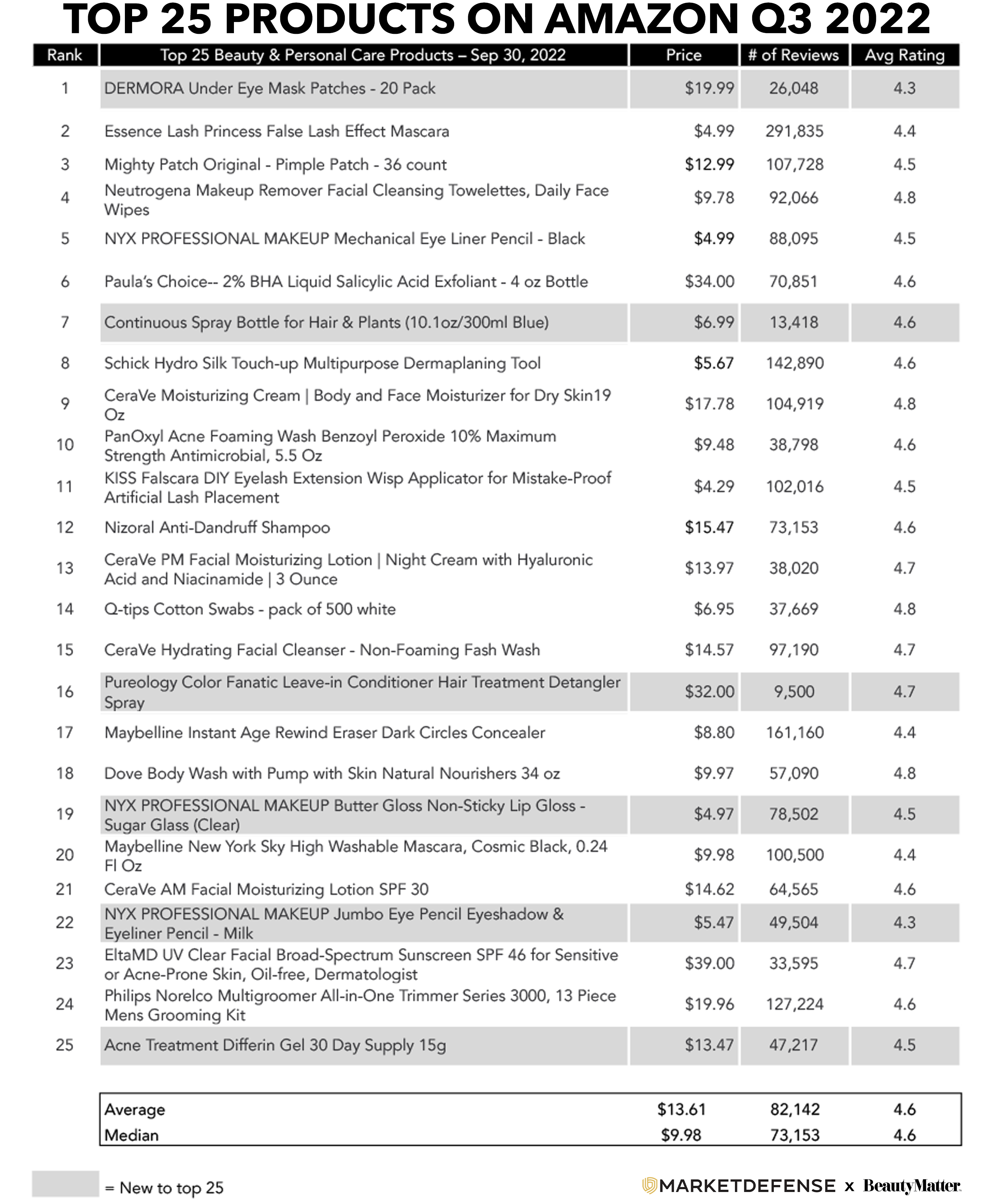 How hard is it to reach the top of the list as a new product? "The days of throwing something up on Amazon and it selling millions overnight are behind us; brands have to invest in a strategy that gives their products awareness, momentum, and conversion," says Vanessa Kuykendall, COO of Market Defense, an Amazon agency representing global prestige beauty brands, like those owned by Unilever and Procter & Gamble. "The customer journey often starts on social media now, so investing in a TikTok campaign and aligning that with their other social channels and editorial placements can give brands a strong awareness push. Then brands need to invest in expanded content, images, and persuasive sell copy to get customers across the finish line."
The Top 25 beauty categories show that Amazon customers spent largely on the same types of products as they have been throughout 2022. Skincare spending gained four percentage points from Q3, representing 52% of the Top 25. This came at the expense of makeup, which lost four percentage points in the Top 25 at 20%. Tools and hair remained stable at 16% and 12%, respectively. Notably, body care didn't even crack the Top 25 for the second quarter in a row.

Even during a focus on gifting in Q4 2022, the top selling SKUs in the Market Defense portfolio were bundles and value sizes of year-round favorites like Dr. Dennis Gross Alpha Beta Extra Strength Daily Peel (60 treatments), Skyn Iceland Hydro Cool Firming Eye Gels in the 16 count, and Lavanila The Healthy Fragrance Clean and Natural Pure Vanilla Perfume Spray in a larger 100ml size. "Across the portfolio, the biggest lifts were in self-care purchases, especially in clinical skincare and body care, like the Herbivore Botanical Bath Ritual Set. Customers were indulging in high-quality, high-results skincare this winter, " says Kuykendall. Gift purchasers leapt on the Petite 'N Pretty WhimsiCali Eyeshadow & Cheek Makeup Palette and the Tocca Eau de Parfum Mini Discovery Set, both up over 500% from last quarter.
The Top 10 skincare products on Amazon during Q4 were largely skewed toward more mass-market value-priced brands. CeraVe maintained its dominance of the category, representing 40% of the Top 10 skincare products, alongside Top 10 staples from Neutrogena and PanOxyl. Hero Cosmetics' Mighty Patch Hydrocolloid Acne Pimple Patches once again moved into the number-one spot during Q4. The brand has been on the Top 10 list every quarter since 2020. Paula's Choice Skin Perfecting 2% BHA Liquid Salicylic Acid Exfoliant and Laneige Lip Sleeping Mask rounded out the list as the token prestige brands in the Top 10 during Q4.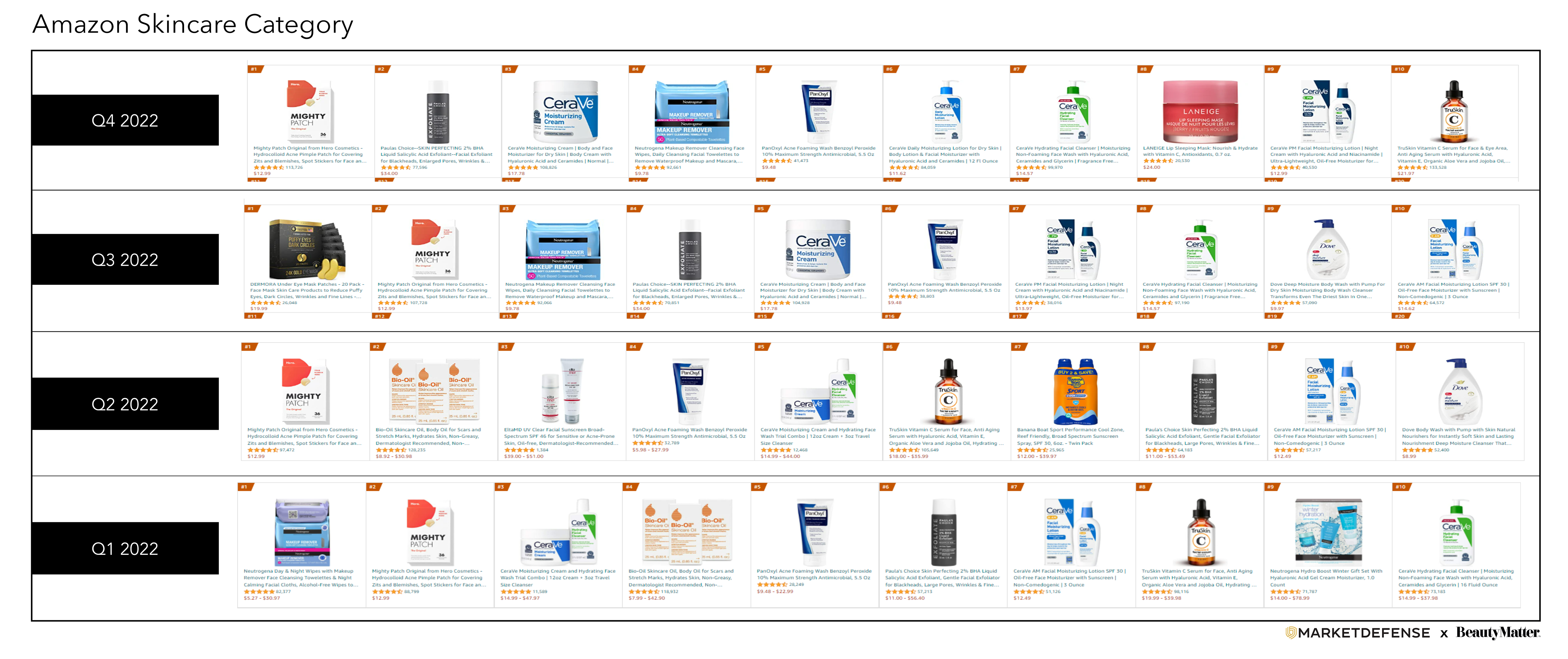 The Haircare Top 10 saw a bit of a resurgence of prestige favorite Olaplex No. 5 Bond Maintenance Conditioner moving into the number-six spot from number ten in Q3. The number-one spot was held by Mielle Organics Rosemary Mint Scalp & Hair Strengthening Oil, which made its first appearance on the list after being amplified on TikTok during the quarter.
The Makeup Top 10 was consistent with previous quarters, highlighting favorites from Essence, Maybelline, NYX, Neutrogena, and L'Oréal. Once again, the average price point of the Makeup Top 10 was well below that of skincare and haircare at just $8.17. This was a 25% increase from Q3 but still well below skincare at $16.92 and haircare at $15.95.
What can we expect from Amazon in 2023? We've heard Amazon is scaling back on budgets and headcounts—what does this mean for marketplace sellers? "Amazon has been growing its stable of tools for sellers for the last few years and that will help brands continue to gather the data they need to make intelligent decisions on assortment, pricing, warehousing and shipping costs, all to keep a close eye on profitability," Kuykendall says. "I worry about brands selling wholesale to Amazon; they have less visibility and control. If sales do slow down, Amazon will make choices on their inventory and retail price that they may not like."