Beauty sales on Amazon during the first quarter of 2022 reflect consumer optimism about the waning impact the pandemic will have on their lives this year, and their interest in making investments in the health and appearance of their skin. One of the most notable changes to Amazon's Top 25 Beauty and Personal Care list this quarter is the absence of face masks (#1 and #8 on the list last quarter). This was also a big quarter for skincare and makeup, with skincare comprising a whopping 44% of the Top 25 (up from 28% last quarter) and makeup growing to comprise 28% (up from 24% last quarter). People are out and about again, and they want to look and feel their best.

CeraVe dominated Amazon's Top 25 in Q1 2022, with five products on the list—more than double that of the next biggest brands, Neutrogena and Maybelline. CeraVe's new additions to the list this quarter include an SPF 30 AM Facial Moisturizing Lotion and Daily Moisturizing Lotion for Dry Skin. Acne brand PanOxyl's Foaming Face Wash with Benzoyl Peroxide appeared on the Top 25 list for the first time, jumping into the #7 overall spot and the #1 spot in the Facial Cleansing Washes category. Other new products on the list were in the Hair category, predicted to be the "category to watch" for new growth in 2022. Nizoral Anti-Dandruff Shampoo gave up their spot in the Top 25 but was replaced with their Nizoral Deep Moisturizing Conditioner. The Wet Brush Original Detangler Hair Brush crept onto the list at #25 and was ranked #1 in the Hair Brushes category.

As noted earlier, disposable face mask listings disappeared from the Top 25 list in Q1 2022. Face masks had made a resurgence in Q4 2021 for the first time since 2020, where they owned several top spots throughout the year.


Why are Amazon rankings important to brands? Category and subcategory best-seller lists show a product's ranking in the categories or subcategories where its listed, telling consumers how it stacks up to its competition. Though the overall Amazon Best Sellers list is a strong indication of how well a product is selling, tracking its ranking in a category or subcategory list is a better indicator of market share growth. A brand's goal should be to rise in the rankings of its specific granular subcategory list, not just in the overall product category list. "By folding DSP strategy into the overarching plan of an international prestige skincare brand, we were able to drive a 50% YoY lift in sessions and propel 30% of the catalog (15 SKUs) into the top 100 best sellers for their respective categories, without discounting," says Market Defense COO Vanessa Kuykendall. DSP stands for demand-side platform, a powerful marketing tool available to Amazon advertisers that allows them to purchase advertising with the help of automation.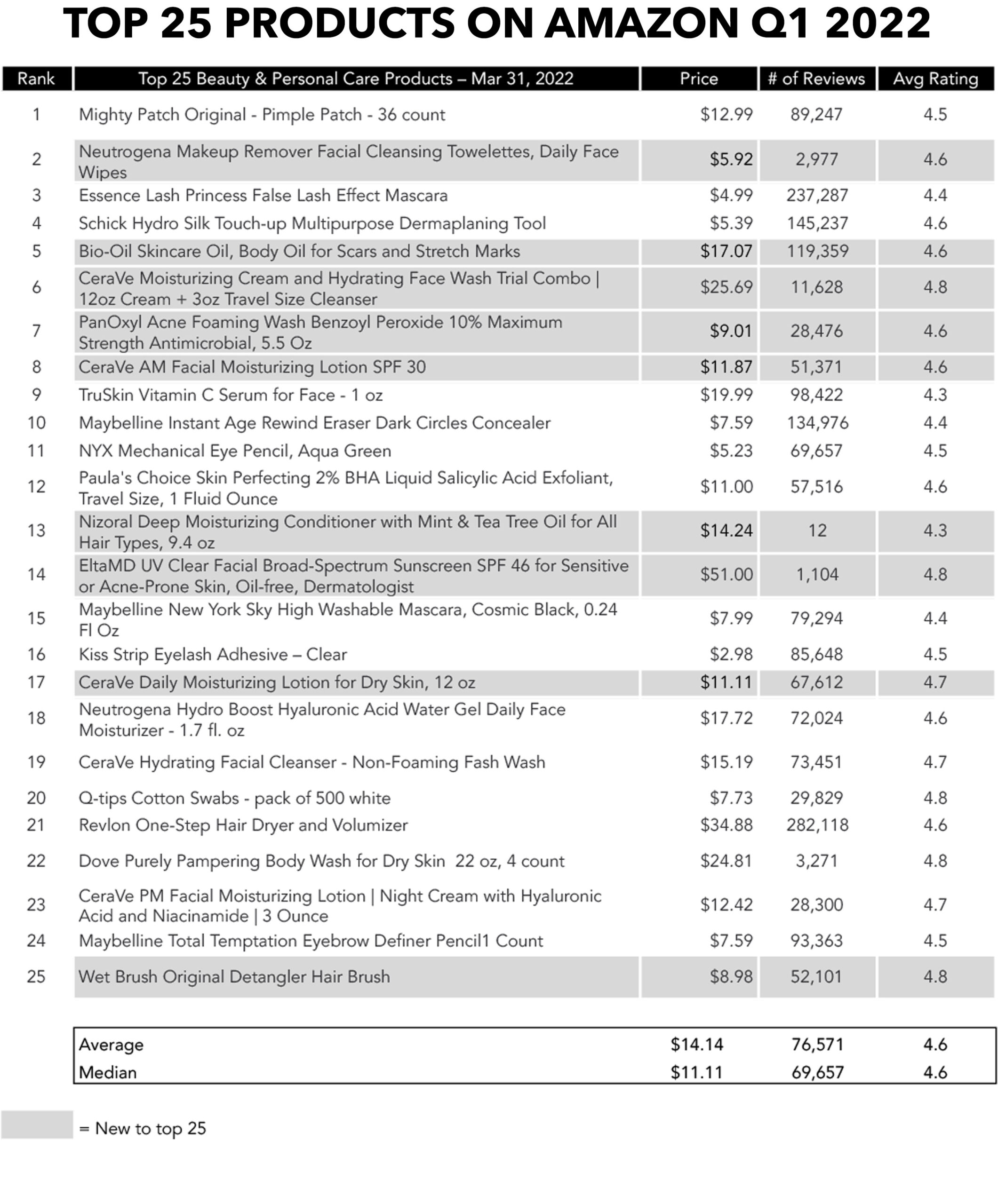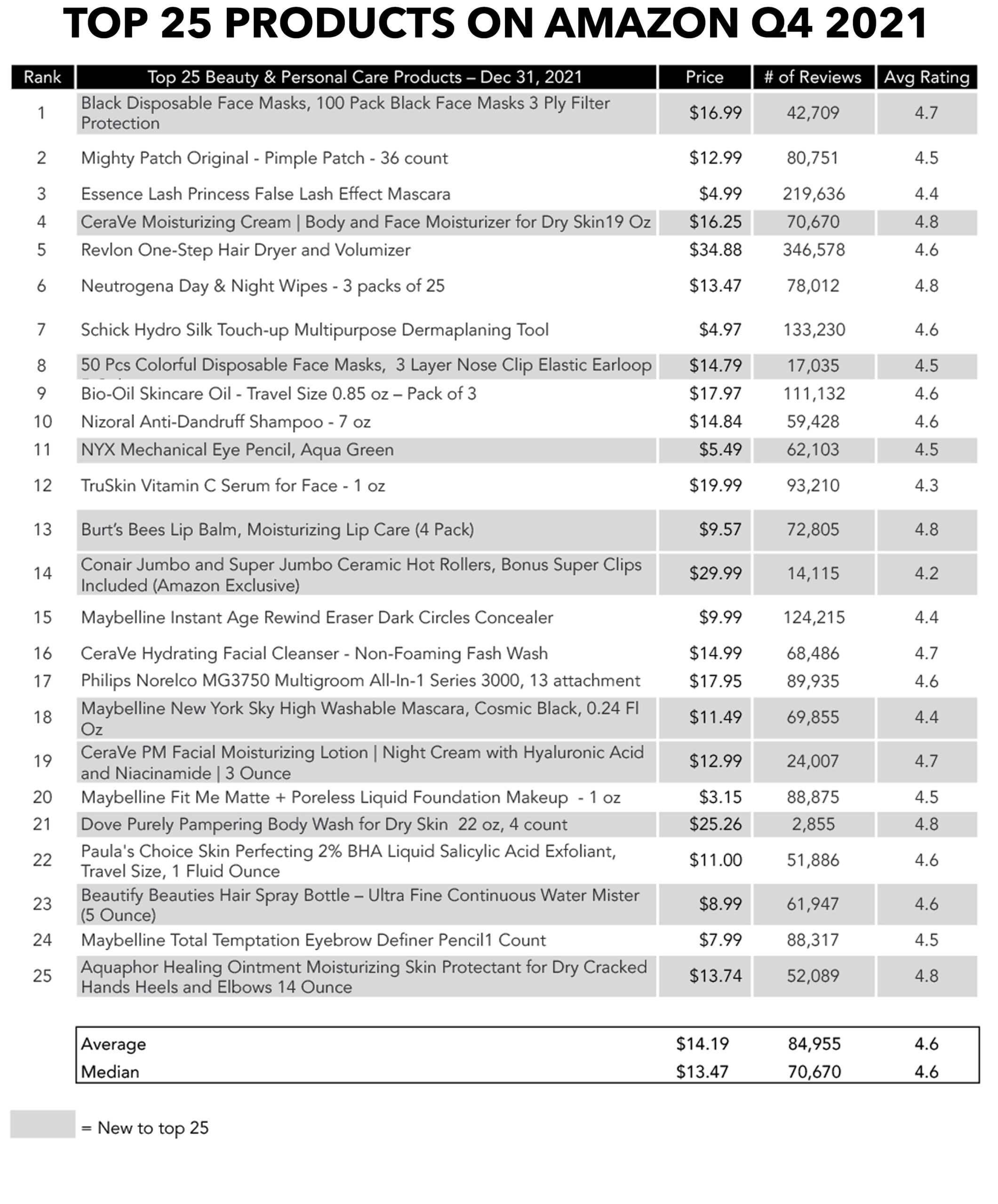 In the Market Defense portfolio, the top-selling SKUs of Q1 2022 were winter-weather skincare products, with emollient lip masks and richer moisturizers like Tatcha's Dewy Skin Cream leading the category. The fastest-growing category in skincare was advanced facial washes, like Dr. Dennis Gross Alpha Beta Pore Perfecting Gel, growing 107% from LY, and Tatcha's Rice Wash, launching on Amazon less than a year ago and now their #4 best seller of the quarter.

"Body Care had a great quarter, matching Fragrance for the fastest growth across our portfolio. Our data tells us consumers interested in skin care on the body is growing quickly, and they are looking for advanced solutions for body acne, sun damage, and sun protection," said Kuykendall. This Works' Perfect Legs Skin Miracle saw an increase of 40% YOY, while Zitsticka's Blur Potion, a vitamin supplement to fade dark spots, more than tripled sales. And Lavanila's Pure Vanilla EDP continues to be a standout, growing to become the #18 eau de parfum on Amazon.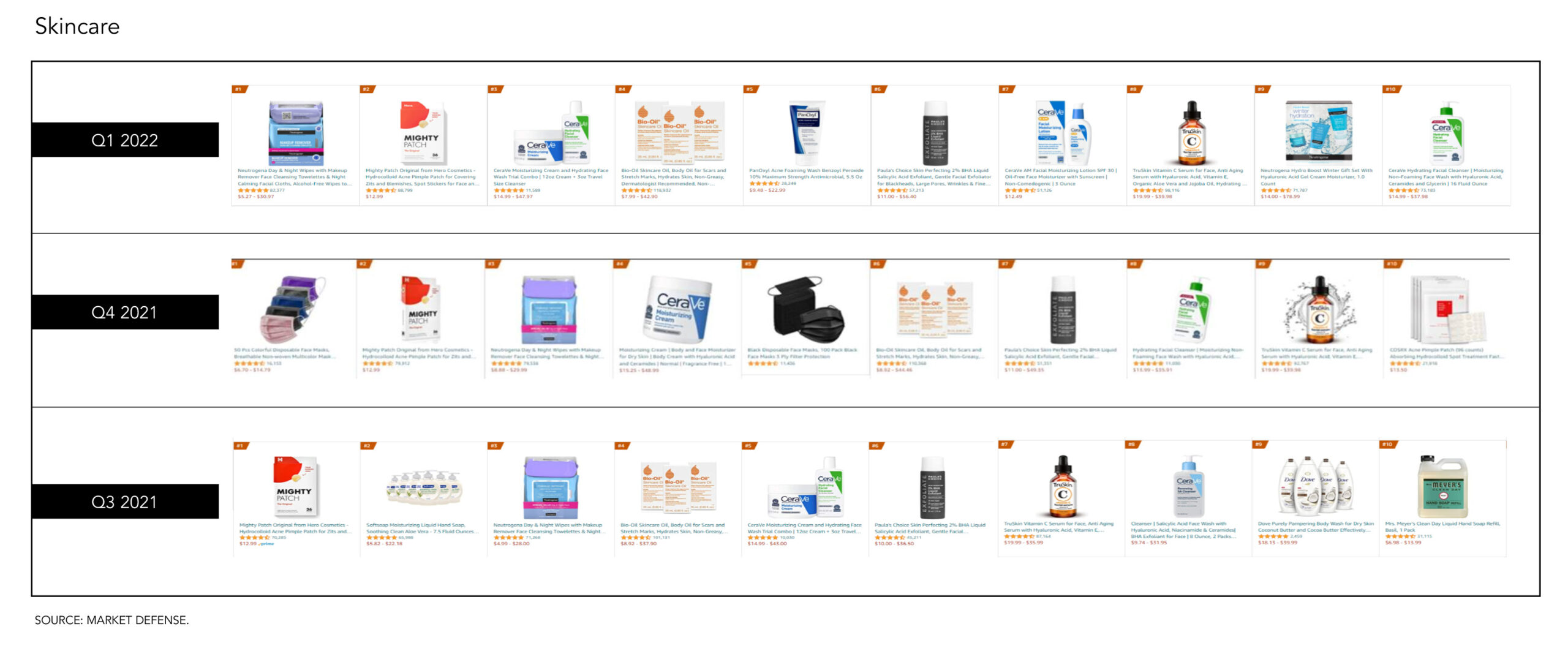 The Top 10 skincare SKUs during Q4 were heavily weighted toward mass and masstige brands, with perennial favorites CeraVe, Neutrogena, and Bio-Oil dominating the category. Acne patches remain a top performer, with Mighty Patch taking the number two spot (second only to face masks) and COSRX rounding out the category at number ten.
Nizoral Anti-Dandruff Shampoo took over the top spot in the category, pushing Revlon's One-Step Hair Dryer and Volumizer to #2 after two quarters at #1. Olaplex remained in the Top 10 with three products on the list, though the brand fell slightly in the rankings from last quarter. Two brushes made the list in Q1, with the HEETA Scalp Care Brush in #3 and the Wet Brush Original Detangler Hair Brush in #5.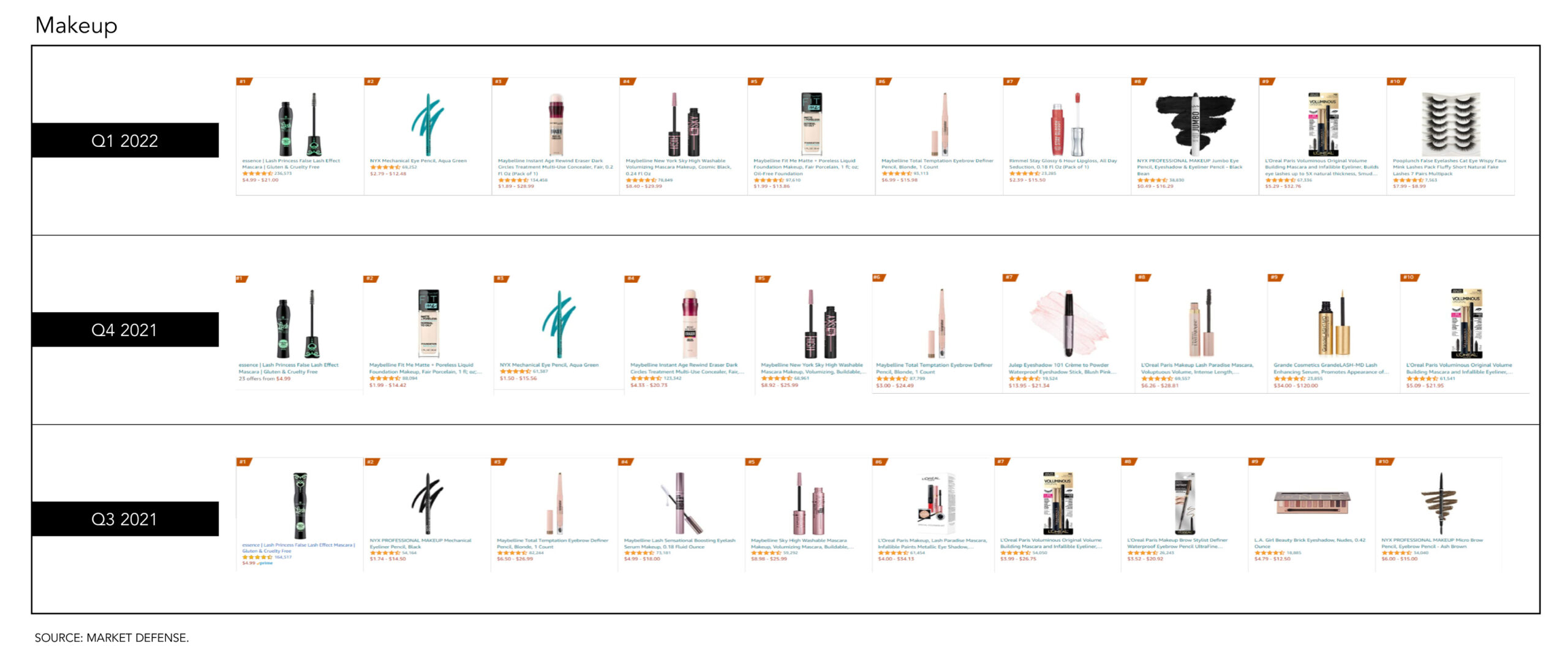 The Top 10 makeup products continued to be dominated by eye and lash products. The Essence Lash Princess False Lash Effect Mascara remained in the #1 spot for the second quarter in a row, while the NYX Mechanical Eye Pencil in Aqua Green moved from the #3 spot last quarter to the #2 spot this quarter. Maybelline had four of the Top 10 products this quarter.
Kuykendall predicted that "looking ahead to Q2 2022, we're going to see brands focus on retargeting campaigns and tools like DSP. At Market Defense, we're seeing big returns on our middle-funnel tactics, specifically retargeting to the customer who is researching and evaluating through solution-focused content that shows, in detail, how they can solve their perceived problems. DSP is an ideal tool to reach beauty consumers, as the prestige consumer is now doing more research before they buy. It has also been successful in driving new customers to a brand. We are about to publish a case study where we grew a brand's new-to-brand customers 65% YOY through DSP. You have to target the customer in all stages of their buying journey."