Summer came in hot to Amazon's Top 25 in Q2 2022, with three sunscreens making it to the list, including a first-time appearance for Sun Bum Original SPF 15 Hand Cream. Cerave continued to dominate the list with four products, more than double that of Maybelline, the next biggest brand. A new product from Cerave was the Salicylic Acid Cleanser, appearing in the Top 25 for the first time ever. The biggest splash in the Top 25 was Julep Beauty 101 Crème to Powder Waterproof Eyeshadow Stick, with the brand making its debut in the Top 25 at #11. Long the #1 selling eyeshadow on Amazon, this masstige product links the mass beauty consumer to Amazon's vast prestige beauty offering.
Price is the top reason people choose Amazon, followed by assortment. Two out of three consumers shop on Amazon, and most are loyal Prime members. But what drives customers to choose a new brand on Amazon? While brand loyalty on Amazon may be greatly driven by price, the top reason a consumer would switch from their favorite brand is that it would be unavailable or out of stock; a new brand being more affordable is the second reason, according to recent Jungle Scout reporting. Vanessa Kuykendall, COO of Market Defense, an Amazon agency representing some of the world's most influential beauty brands, says "Going out of stock can be the kiss of death on Amazon. Not only does it give your competitor an opportunity to poach your consumer, but it kills the momentum of your advertising. We advise brands to monitor their sell-through closely, and to have backup plans in place so you can react quickly to a sudden increase in sales driven by a press hit, for example. It's a good problem to have, but it's still a problem."

Prime Day was announced for July 12-13, and there is buzz amongst Amazon insiders that there may be another Prime event in the fall. Amazon Prime Day started on July 15, 2015, as a way to celebrate the 20th anniversary of Amazon.com going live, and now 78 percent of surveyed Americans have heard of Prime Day. But what happens after the party is over? How should beauty brands selling on Amazon capitalize on the massive scale of this event? We asked Kuykendall for her insights: "We look forward to Prime Day every year for the opportunity to gather data-driven insights. While there are many consumers who come to Prime Day intending to purchase, there are also those who research and browse, and we can use tools like DSP to engage them and remind them of our client's unique offer. We can also re-engage with the loyal customer later and present them with an offer rewarding them for their loyalty. In fact, 43% of consumers are more likely to return and convert when running DSP retargeting campaigns."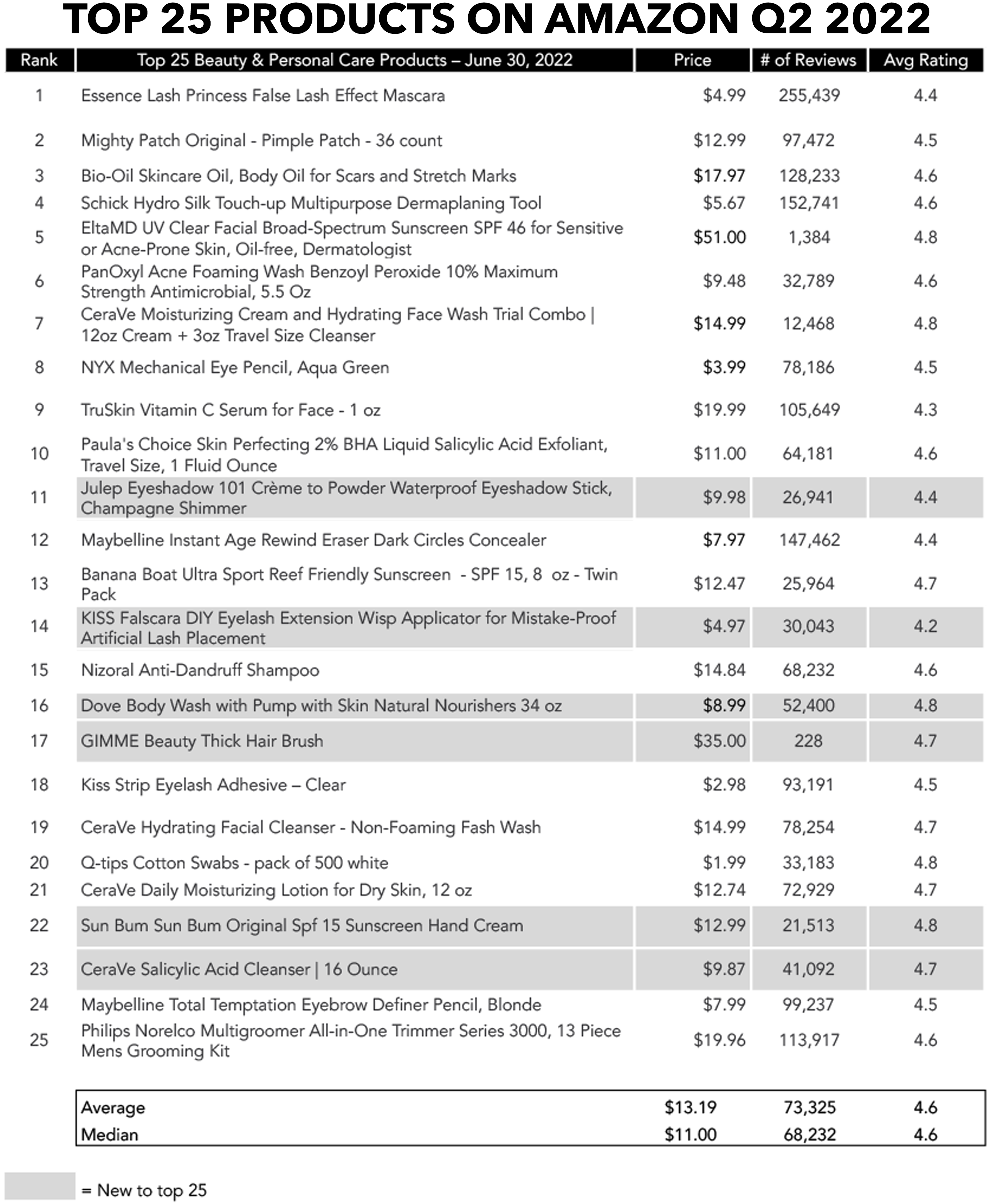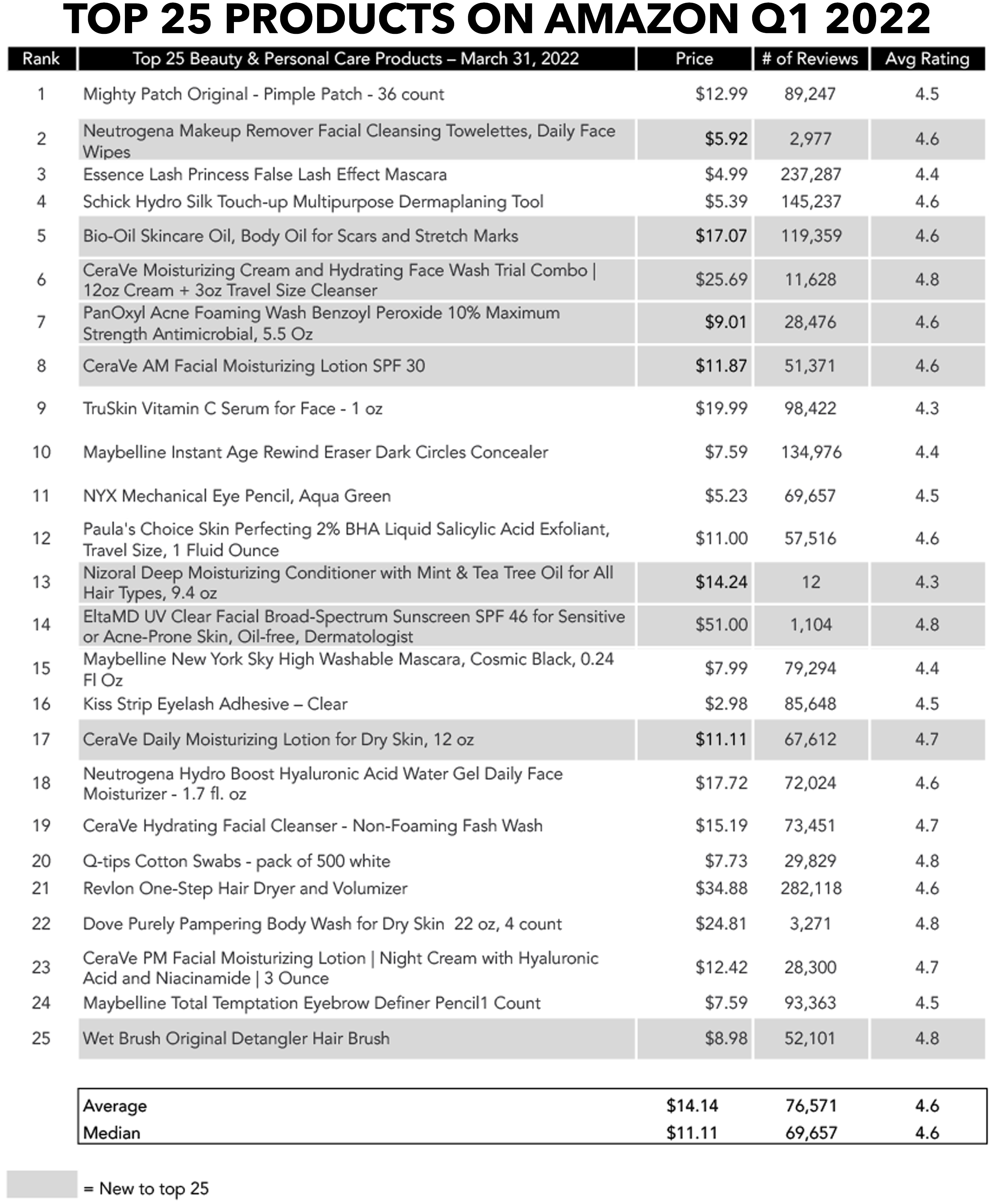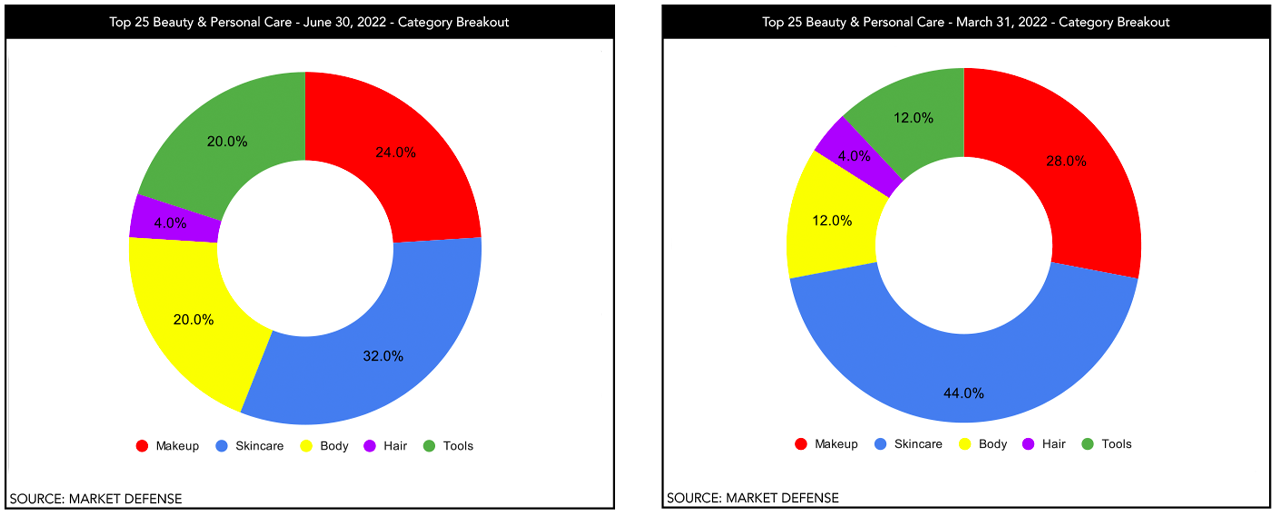 Mighty Patch Original Pimple Patch and Essence Lash Princess False Lash Effect Mascara continue the battle for the number one position and hold firm in the top three for another quarter. CeraVe continues to dominate the top twenty five with four products ranking, followed by Maybelline with two products making the list.
Kuykendall shared that in Market Defense's portfolio, top selling SKUs of Q2 2022 were Skincare-infused face products, with sunscreens like Tatcha The Silk Sunscreen, Hydropeptide Solar Defense, and Glo Skin Beauty Moisturizing Tint SPF 30 leading the category. She added, "Mother's Day drove exceptional Fragrance sales across our portfolio, a momentum that continued through until early June. Standouts were the Tocca gift sets and Floratta Blue EDP from O Boticário."

The top ten skincare SKUs during Q2 continue to be heavily weighted toward mass and prestige with Paula's Choice continuing to be the sole prestige player on the list. Given the time of year, there is no surprise that products with SPF dominate the list, including products from Elta MD, Banana Boat and CeraVe.

Nizoral Anti-Dandruff Shampoo held on to the top in the category it took over in Q1. Unlike skincare, the hair care category is heavily weighted to premium brands, with Color Wow and Nutrafol making their first appearance. Olaplex dominates the top ten with three products ranking, with a third product, No. 5 Bond Maintenance Conditioner, making the list.

Kuykendall adds, "Prestige haircare was the biggest mover this quarter on Amazon's Top Sellers. Five of the Haircare Top Ten were prestige hair products, which makes clear the opportunity that Amazon is for premium brands looking for a discerning, savvy customer willing to pay for high-quality results. The Amazon customer wants high value; that doesn't have to mean low price."

Essence Lash Princess False Lash Effect Mascara continues its reign as the top makeup product on Amazon for the third quarter in a row, while NYX Mechanical Eye Pencil in Aqua Green makes the list for the third quarter, holding fast onto the #2 position. The lash, eye and brow products continue to dominate the makeup category.