Mass beauty had a resurgence during the third quarter, as buzz around inflation continues to circulate in the US. The biggest shift was seen in the haircare category, as prestige brands like Color Wow and Olaplex lost some ground in the Haircare Top 10, replaced by lower-priced alternatives, like natural castor oil and at-home hair color. CeraVe continued to dominate the Top 25 list with four products, NYX following with three, including two new products to the list, Butter Gloss Non-Sticky Lip Gloss and their Jumbo Eye Pencil Eyeshadow & Eyeliner, both around $5. All sunscreens fell out of the Top 25 in Q3, replaced by a focus on eyes in both makeup and skincare; 8 of the Top 10 makeup products were for the eyes, all under $10. The biggest bombshell in the Top 25 was the Dermora 24k Gold Under Eye Mask Patches, making their debut in the Top 25 at #1. Selling on Amazon since 2018, influencer buzz during the quarter helped this product explode in popularity and rack up over 26,000 reviews.
"How quickly things change! Prestige haircare was the biggest mover last quarter and now we see customers tightening their belts a bit and looking to mass beauty again," says Vanessa Kuykendall, COO of Market Defense, an Amazon agency representing some of the world's buzziest beauty brands. "With all the talk of inflation, customers know they can shop Amazon for legendary mass beauty brands and prestige beauty at a fair price. Amazon also announced their October Prime Member Event in September, so customers may have postponed purchasing some of their prestige beauty staples so they can take advantage of some big deals in October."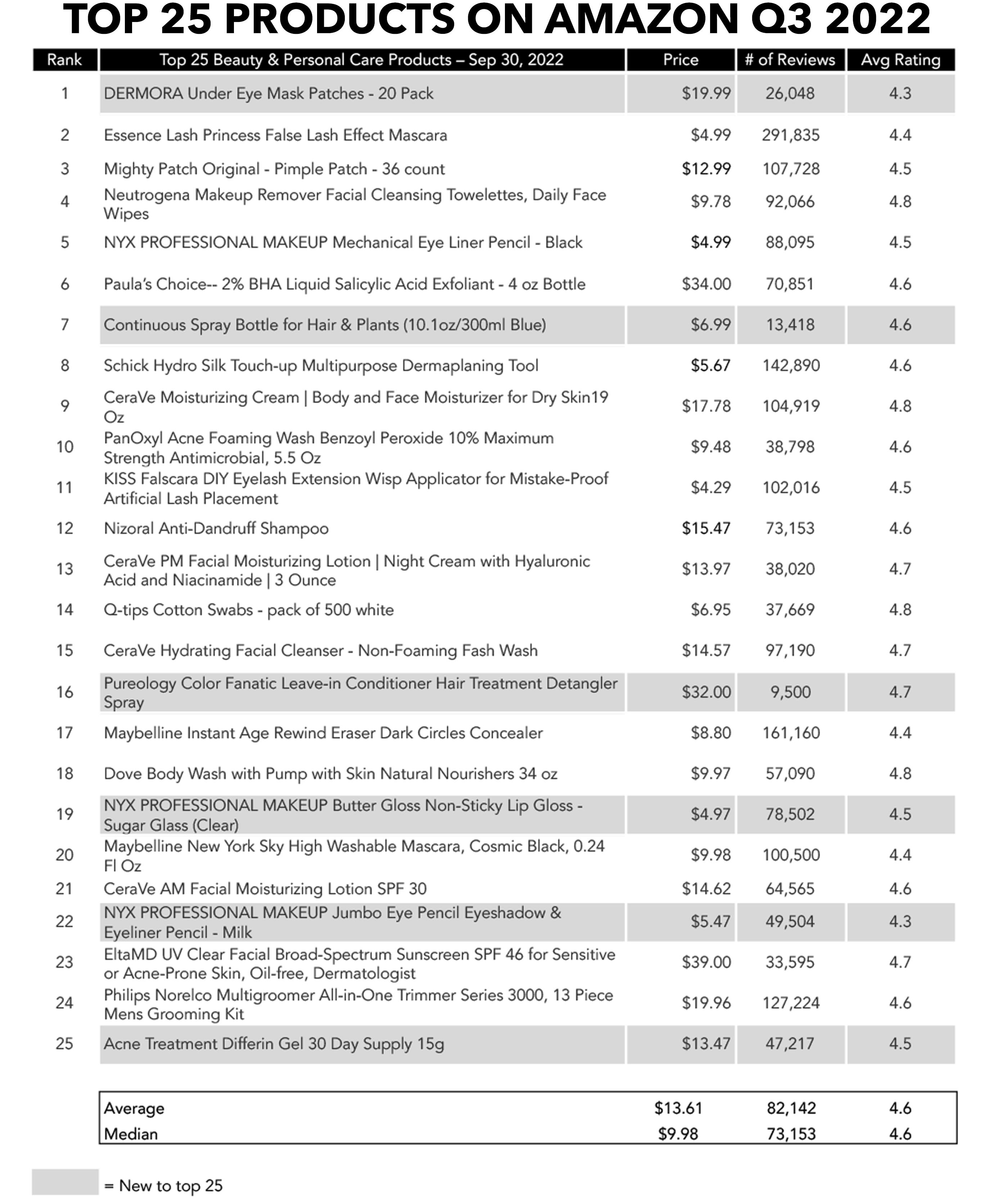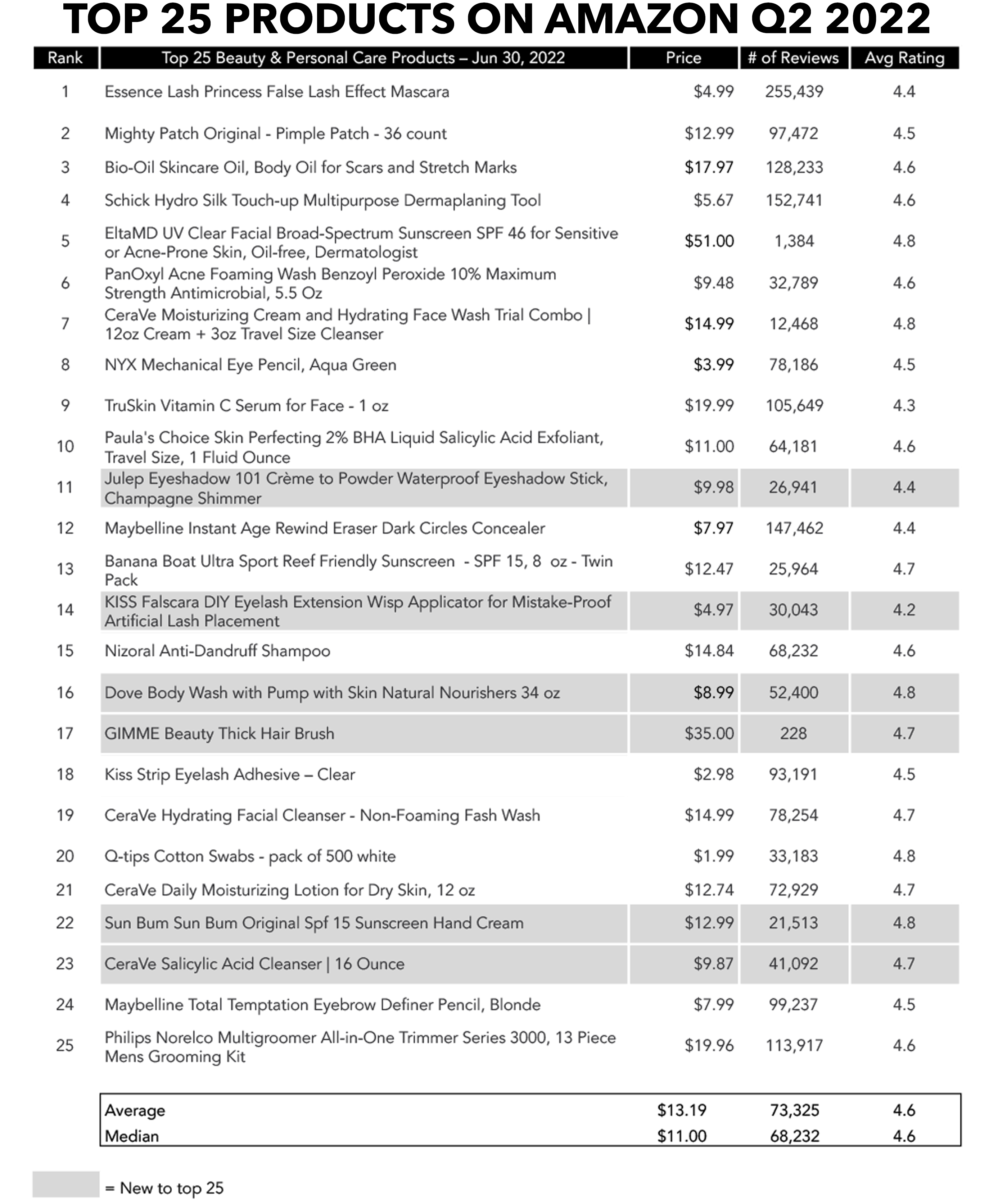 Category-wise, the data shows that customers are spending in pretty much the same places they were earlier in the year. Skincare, once again, attracted the lion's share of customers' attention, comprising 48% of the Top 25. Makeup and tools were relatively stable, but haircare saw some expansion, to the detriment of body care, which didn't even crack the Top 25 during the third quarter.
The Top 10 skincare SKUs during Q3 were much more heavily weighted toward mass brands like CeraVe, Dove, and Neutrogena. CeraVe products comprised 40% of the Skincare Top 10. Hero Cosmetics' Mighty Patch Hydrocolloid Acne Pimple Patches held onto its spot in the Skincare Top 10, where it's been since 2020. Dermora's 24k Gold Undereye Mask Patches slid into the number-one spot in Q3. It will be interesting to see if the buzz around the product can keep it in the Top 10 heading into Q4 and beyond.
The Haircare Top 10 saw prestige favorites like Olaplex fall largely off the list in Q3, replaced by more moderately priced items from the likes of Revlon and L'Oréal. Although much of the Top 10 was dominated by mass price points, the average price point of the category rose 22% from Q2, largely because of the popularity of premium-priced items from Nutrafol and Pureology.
The Makeup Top 10 was consistent with previous quarters, largely dominated by mass favorites from Maybelline, NYX, Essence, and L'Oréal. The Top 10 list highlights an interesting nuance to Amazon's makeup business in that the average price point was $6.53 (about where it's been for all of 2022). This is in sharp contrast to skincare, with an average price point of $17.46 and haircare with an average price point of $18.15.

In the Market Defense portfolio, top-selling SKUs of Q3 2022 were focused on clean and safe ingredients and sustainability, including emerging categories like intimate wellness. Sweet Spot Labs Buff & Brighten, Grown Alchemist Hand Wash Refill, and Umberto Giannini Curly Jelly Wash all grew over 4,000% from last quarter. "Brands who are living their values and showing the most transparency in ingredient formulations are gaining trust from consumers and encouraging trial of new products," says Kuykendall. "We are seeing that if the beauty consumer trusts your formulations and what you stand for, they are willing to try your new launches. New products from our buzziest clean brands are seeing a good conversion rate on their paid social driving to Amazon."
How much do Amazon customers really care about a brand's values? The numbers reveal that customers expect brands to have a point of view or response to important issues that affect consumer shopping choices, like sustainability and authenticity. A recent report published by Amazon revealed that 79% of consumers were more likely to purchase from a brand whose values align with their own. "Amazon gives brands lots of tools to tell their story and call out their commitment to issues like the environment or human rights, and we help each brand create content that speaks directly to their customer about their sustainability practices," Kuykendall says. "Amazon's reporting tells us that 6 in 10 consumers are seeking out sustainable brands, so brands should make sure they are speaking to that in their content and marketing."