Amazon's New Policy
Earlier this month, Amazon announced that it is requiring third party sellers in the U.S. to publicly display their names and addresses on their Seller Profile pages, starting September 1, 2020.  Amazon stated that its goal is to
"ensure there is a consistent baseline of seller information to help customers make informed shopping decisions."
  This policy is already in force in Europe, Japan, and Mexico. So why didn't Amazon require it sooner in the U.S.?
Growth of 3rd Party Sellers on Amazon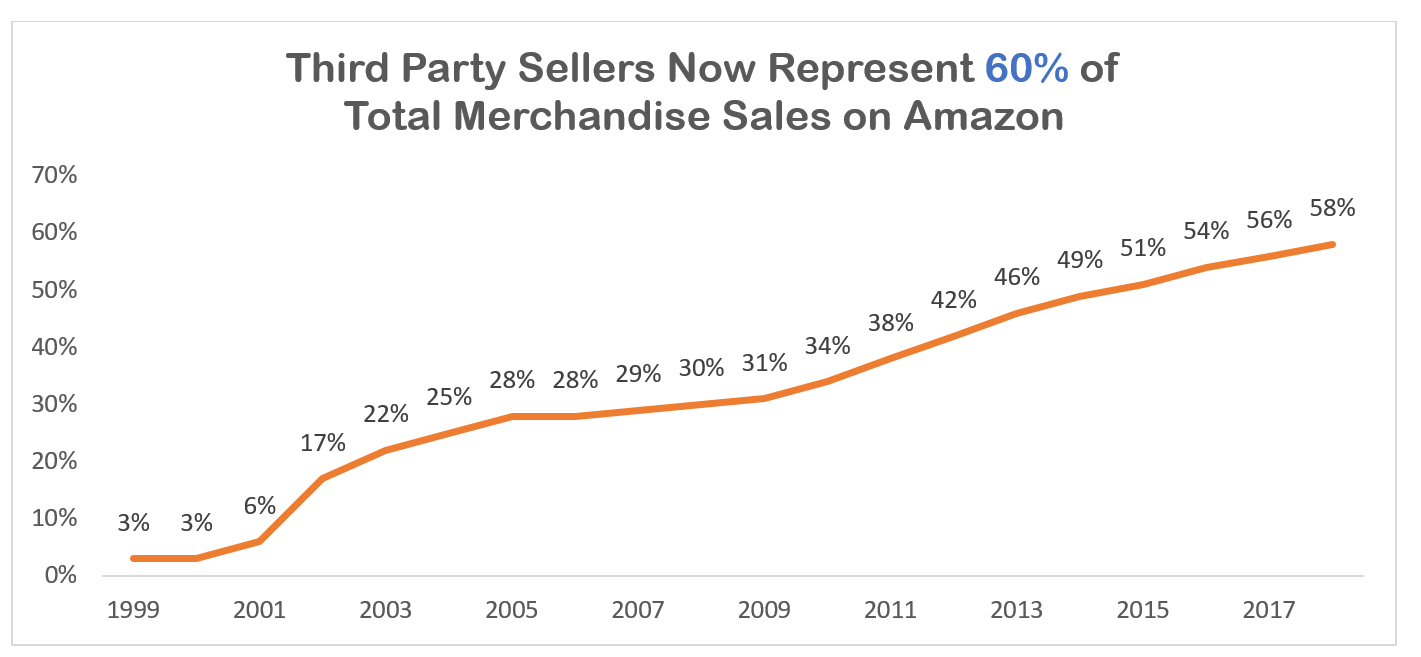 Third party sellers now account for 60% of physical merchandise sold on its site. Source:
https://blog.aboutamazon.com/company-news/2018-letter-to-shareholders
Third party sales on the platform have grown from $0.1B to $160B, a 52% compound annual growth rate.  Over that same period, first party business grew at less than half that amount (25% CAGR) from $1.6B to $117B.
Why such exorbitant growth of third-party sellers? 
Bezos explains in his
2018 Letter to Shareholders
(April 2019):
"We helped independent sellers compete against our first-party business by investing in and offering them the very best tools we could imagine and build. There are many such tools, including tools that help sellers manage inventory, process payments, track shipments, create reports, and sell across borders – and we're inventing more every year."
Growth of Counterfeit Products on Amazon
Amazon has become the largest online retailer in the world – by far – driven in large part by its third-party resellers.  Regardless of whether or not the product is counterfeit, Amazon receives 15% of every third-party sale. It is important to understand that Amazon's primary goal is to have the broadest selection of products and cheapest prices on the Internet.  This has always taken priority over policing its site.  While Amazon spent over $400 million in 2018 to fight fraud and abuse (a number it touts to show that it takes the matter seriously), counterfeit products still remain, and resellers still heavily discount prestige products in order to drive sales.  The sheer scale of resellers on the platform –
now over 2.5 million
– makes it impossible for Amazon to manage them effectively.  Thus, it relies on prestige brands themselves to report unauthorized sales of their products.
Brand Registry: Service Meant to Curb Unauthorized Resellers
In 2017, Amazon launched Brand Registry, which allows brands to register logos and intellectual property so it can spot and remove listings when counterfeits are flagged.  Brand Registry allows prestige beauty brands to maintain control over their brand messaging, keep it consistent across channels and prevent counterfeit products from damaging the user experience.  However, unauthorized resellers find loopholes and it is an ongoing process for brands or their agencies to identify and remove them from the platform.
Impact of the New Reseller Policy on Prestige Beauty Brands
While Amazon's new reseller policy will help brands
identify
unauthorized resellers who may be discounting or selling counterfeit products, they will still need to be
removed
. Brands will still need an experienced internal team or brand protection agency like Market Defense to do it quickly with minimal impact on total platform sales. This policy will likely benefit smaller beauty brands with fewer resellers the most.  They have fewer reseller issues, so they will be better able to identify sellers and cut off distribution.  For larger brands, although accurate seller info will help, it will not eliminate the problem.  Amazon has given U.S. sellers two months' notice, which is plenty of time for them to prepare – or in the case of unauthorized resellers, change their contact information.  In order to eliminate unauthorized resellers, brands need a solid legal team and process for enforcement.  So, while we applaud the step Amazon is taking, it will not eliminate the unauthorized reseller problem completely (
just look at Europe
). With over 2.5 million sellers on Amazon's platform, it just isn't possible. To learn more about Market Defense's Brand Protection & Growth Services,
click here.