Science-backed beauty is one of the latest trends in the Beauty & Wellness industry. As consumer demand for clean, transparent brands increases, beauty and wellness brands like Codex Beauty Labs, AVYA Skincare, and AllWell Beauty are answering the call with data-backed science.
Codex Beauty Labs approaches skincare solutions from a scientific perspective.
"Healthy skin is beautiful, and there are many issues to solve, ranging from eczema and psoriasis to acne," says CEO Dr. Barbara Paldus, who founded Codex in part due to her own son's allergies to almost all mainstream skincare products.
Paldus has over 20 years of experience building analytical and biotech production equipment with sophisticated automation, and her background in biotech has allowed her to both hire experts for each function of the business and find innovative suppliers and partners, all of whom offer new and different perspectives. Products like Codex Beauty Bia Skin Superfood Moisturizer are not only effective, but also protective of your skin's natural microbiome.
"I assembled a technical team of experts in the fields of gene expression, biotechnology, cGMP manufacturing, pharmaceutical quality, dermatology, cosmetic chemistry, formulation and herbology," says Paldus. "And on the testing side, I know labs where genetic or skin cell model tests can be performed, and innovate in finding synergistic bio-active complexes to solve specific skin problems like inflammation or hyper seborrhea (overly oily skin).  I am also familiar with clinical trial providers, and high-tech analytics labs for testing my products."
Through the use of biotech equipment, Codex is able to increase the continuity and efficiency of the manufacturing process while creating products like Codex Beauty Antü Brightening Moisturizer, which is designed for all skin types and backed by patented formulas and published clinical testing results.
Paldus explains, "In contrast to the classically extracted plant-based ingredients, the extracts obtained from plant cell cultures can be easily standardized, reproducibly manufactured, and made perfectly compliant with strict safety requirements. Plant cell extracts can be made free from pathogens, pesticides, industrial chemical pollutants, allergens and any other toxic substances, because they are produced under controlled, cleanroom conditions, complying with the procedures of good manufacturing practice. In fact, ISO 22716 manufacturing could then be applied not only to formulation manufacturing but to ingredient product as well, a huge step forward for the cosmetics industry. "
Science-backed beauty offers endless opportunities, as companies like Codex continue to develop new or find uses for existing materials and processes.
"Biotech skincare will also provide functionality that is far superior to existing products, especially for anti-aging. I see advances coming in cell culture for production of recombinant proteins for next generation skincare products," says Paldus. "I would expect these technology platforms to emerge in the next five years and for biotech production to become dominant within the next decade."
AVYA Advanced Ayurvedic Skincare combines traditional Ayurvedic ingredients with state-of-the-art technology.
"I believe that science-backed beauty is really about focusing on the concentrations of active ingredients, the purity of the ingredients, and then using molecular science to create delivery systems," says AVYA's co-founder and CEO Deepika Vyas, who has backgrounds in both pharmaceuticals and self-care counseling.
The research and development process is overseen by Vyas' co-founder Dr. Tanuj Nakra, a world-renowned, triple board-certified ophthalmic and cosmetic plastic surgeon. With expertise from both Vyas and Nakra, AVYA creates truly authentic products. And an understanding of science has also allowed AVYA to create a product that is "unconditional luxury skincare for all." The company offers products like AVYA Skincare Night Moisturizer, which intensely hydrates skin while also addressing hyperpigmentation, for consumers with darker skin tones that are more focused on correcting cosmetic pigmentation irregularities than on lightening dark skin.
AVYA bills itself as "Advanced Ayurvedic Skincare" because of how it has been able to deliver medical-grade results by implement technology to concentrate and boost the benefits of botanical ingredients used in traditional Ayurvedic medicine. According to AVYA's website, Ayurveda focuses on balance in the body and mind, using plant-based ingredients and botanicals for natural healing and wellness.
"Ayurveda is very ancient," says Vyas, who has practiced it all her life as part of her Indian heritage. "It's been practiced for thousands of years, and I think people are really beginning to want the things that have been tried and tested for thousands of years. They want to feel rooted to something."
But at the same time, AVYA develops its signature Qusomes to release the extracts from Ayurvedic ingredients — i.e., turmeric, neem, and peony — directly into the skin's surface at the time of application. This technology, used as part of AVYA's proprietary microencapsulation technique, is relatively new to the beauty and wellness industry. Previously, it was only used in the pharmaceutical industry. That combination of natural ingredients and science-backed ingredients is what sets products like AVYA Skincare Nourishing Hand Treatment, which won Allure's award for Best Body-Care Product of 2021, apart.
"When you try to remain completely organic and natural, you're not going to get the results that you would get with tried and tested clinical ingredients," says Vyas. "With our brand, we've been able to bridge that. We use the Ayurvedic ingredients to balance the — for lack of a better word — harshness of these clinical ingredients."
The result is that customers with sensitive skin can turn to AVYA's products for skincare solutions.
She continues, "On the other hand, we do not use any ingredients that are not considered clean. For example, we've never used chemical sunscreens because we believe that they're harmful — we only use mineral sunscreens. And we do not use things like phthalates and sulfates. So, we're a clean brand, and we're extremely proud to have these formulations that really check all those boxes because it's not a small feat."
AllWell Beauty is a pioneer in the upcycled beauty movement.
Using award-winning green technology, AllWell converts under-used plant materials that would otherwise be wasted into clean and sustainable skincare products.
"Let's make use of the available resources we have today, including those not used or undervalued. We can upcycle these resources, turning them into more valuable ingredients for skin care applications," says Mike Hamilton, CEO of both AllWell and Renmatix. "Upcycled Beauty is the future of beauty, given consumers comfort in making the most efficient use of the planet's resources, and processed cleanly, yet still high performing on the skin."
AllWell's makes new-to-the-world particles called Acer Rubrum extract by upcycling undervalued red maple resources. Using this "hero ingredient", the process puts water under high pressure and temperature is used to formulate the AllWell Beauty Botanical Radiance Face + Body Mask, which is also clean to the highest standard in the industry without the use of silicones, phthalates, parabens, or sulfates. And the company is able to back the following claims with clinical testing by a third-party lab:
15% improvement in skin radiance
28% improvement in the appearance of large pores
24%  improvement in fading hyperpigmentation and dark spots
20% improvement in blemishes reduction
The patented Plantrose process first mixes plant feedstock with water into a slurry that is pumped to the supercritical water reactor. In the reactor, the slurry is mixed with supercritical water which causes the plant matter to break down into nature's building blocks. Upon exiting the reactor, the building blocks are separated, washed, and finished to become AllWell's ingredient products.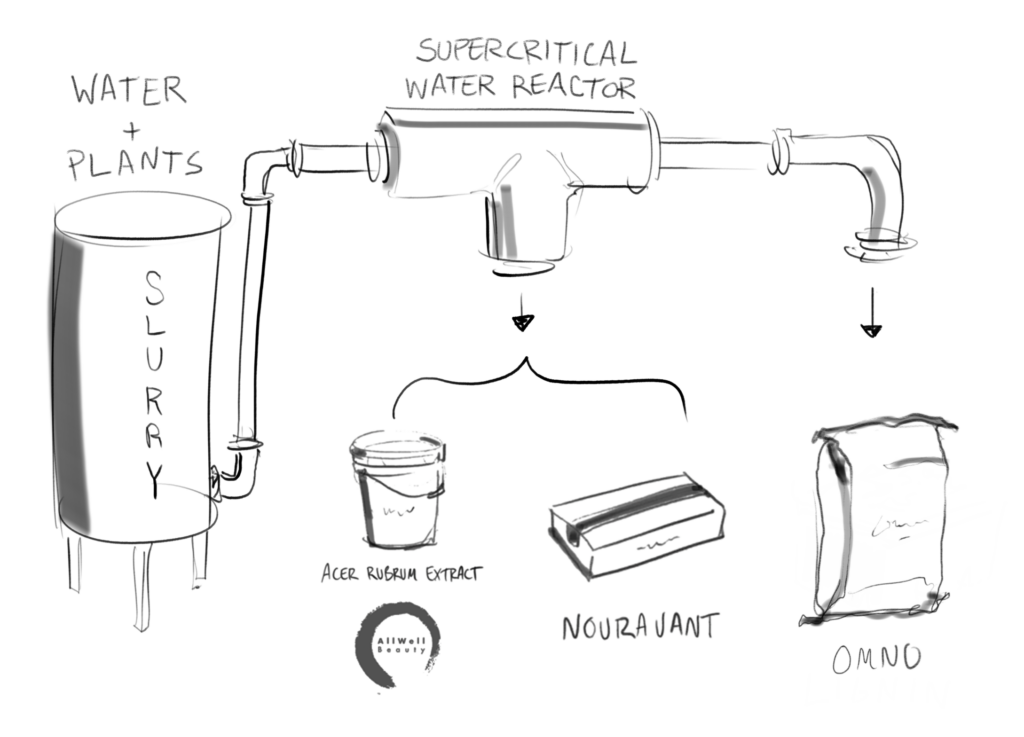 "AllWell Beauty is interested in Plant Ingredient Innovation, that comes from our patented Plantrose process," says Hamilton. "The advancement of this type of technology is where AllWell Beauty will continue to invest."