In 2020, several forces combined to drive the increasing influence of both Purpose-Driven Brands and Amazon. Social unrest, political divisiveness, and economic uncertainty led consumers to more actively seek out and engage with brand purpose. At the same time, COVID completely changed consumer buying behavior, expediting their long march to digital. Amazon felt this more than any other retailer. Once considered a "bulldozer of brand equity", Amazon has added brand building features, investing over $30 billion since 2019 to support its third-party sellers – who now represent over 55% of total sales on the marketplace. In the face of all of this change, purpose-driven brands began to see the potential of Amazon as a brand and growth engine.
However, challenges still remain. Discounting and unauthorized resellers can significantly diminish enterprise value – running counter to the interest of purpose-driven brands.
In this Special Report, Market Defense discusses three topics:
1) The rise of purpose-driven brands
2) The evolution of Amazon as a brand building platform
3) How purpose-driven brands can drive brand and enterprise value on Amazon in partnership with Market Defense
Introduction: Brand Purpose, Brand Equity and Amazon
Brand Purpose: Brand purpose lives at the intersection of a company's authentic reason for being and the unmet human needs that it can uniquely fulfill in the marketplace and the world. (Source: BBMG)
Purpose is carrying influence in both corporate strategy and consumer behavior. Much has been written on the link between purpose and profits – although – as the definition above states – that is not the reason most brands exist. Purpose-driven brands exist to solve a problem that is bigger than their customers, employees and shareholders. It is expansive, shows real intent for good and provides aspiration for everyone who interacts with the brand.
Brand purpose can be described as the intersection of three concepts:
what the company is good at
what the company is passionate about
and what the world needs
It is this passion for providing value not only to customers and shareholders, but also to society and the world as a whole – that draws consumers in and makes them loyal advocates for life.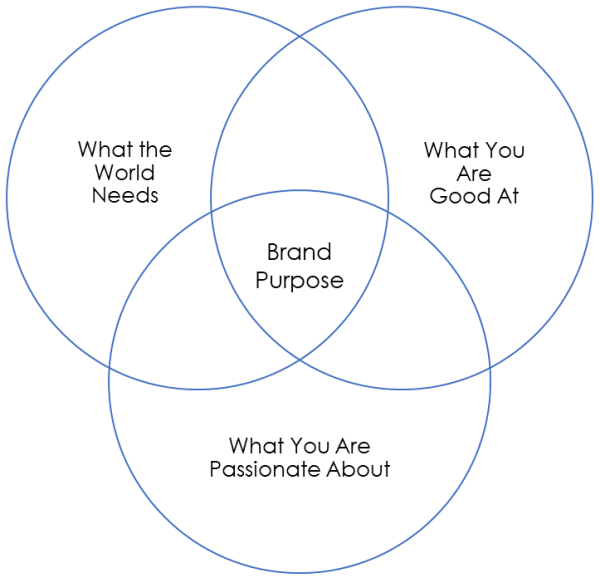 Brand Equity:  The premium a company generates from a product or service with a recognizable and admired name. When a company has positive brand equity, customers will willingly pay a higher price for its products, even though they could get the same thing from a competitor for less. Customers, in effect, pay a price premium to do business with a firm they know and admire. (Source: Investopedia.com)
Amazon has historically cared more about its end users' experience (low cost, convenience, next-day delivery) than its sellers' brand equity. So, purpose-driven brands chose instead to use their own direct-to-consumer and social media channels to create brand awareness and build enduring relationships.
All that changed in 2020 as the global pandemic forced many brands to focus more intently on digital. A large portion of brick-and-mortar retail closed shop. And even established companies like Ulta, BestBuy and Home Depot with strong digital customer experience weren't ready for the onslaught of online orders. They couldn't compete with Amazon's sophisticated marketplace and nationwide, next-day fulfillment. Similarly, purpose-driven brands – who built strong communities on their own websites and social media channels – were forced to consider Amazon as a sales and delivery channel. Surprisingly, they realized that Amazon had made significant changes the past two years. It had invested over $30 billion in new brand building features to support its growing ecosystem, and launched new categories to highlight local, minority-owned and sustainable businesses.
In this Special Report, we will discuss three forces behind the explosive growth of purpose-driven brands. Then, we will outline how Amazon – once thought to be a "bulldozer of brand equity" – has evolved to help sellers share their brand stories and reinforce their purpose. And finally, we will present a framework – based on proven results – that can help purpose-driven brands propel their enterprise value on Amazon.
Three factors driving the heightened focus on brand purpose in 2021
While the concept of purpose-driven brands is not new, their importance to consumers has surged over the past year. Why such a focus on brand purpose? Three trends came together in 2020 to give purpose-driven brands greater share of mind with consumers.
1. Events in 2020 put purpose in the spotlight.
No one can argue that 2020 was a "never seen before" year. The New York Times published an article called "2020 Events – Yep, the Year from Hell" on December 31, 2020 where they summarized the global events of 2020.
Below is a link to a table that takes each event in timeline order and places it under its relevant topic – whether social, economic, or political.
What's important to note is that while social and political events dominated the media, our economy slipped into recession.  And in an economic downturn, people search for purpose.
2. Generation Z started using its (loud) voice to support companies with purpose.
The second reason that Brand Purpose is so important is the influence of Generation Z and their tendencies around impact through action. Gen Z – born loosely between 1997 and 2012 (ages 8-23) – now totals over 67 million and makes up 23% of the U.S. population (Source: Statista). And while they are third in size behind Millennials and Baby Boomers, they are the most vocal group – by far – around brand purpose.
Unlike Millennials, this generation is coming of age at a time when social unrest, racial tensions, the climate crisis, and a global pandemic have spurred fear and divisiveness in our country. As a result, they have a different perspective on social responsibility and care deeply about the world around them. As the first true "digitally native" generation, 96% of Gen Z'ers have a smartphone in their hand at all times and move between digital and physical with ease. With the high volume of news and media streaming to their phones each minute, they are very informed about politics, current events, and general opinions about a huge array of issues. And they aren't scared to voice their opinions.
McKinsey & Company refers to this generation as "True Gen". Gen Z'ers believe that no one should be defined in one specific way ("I just want to be me") and are always on a search for truth. This empowers them with greater freedom of expression, openness to all kinds of people, and a desire to be radically inclusive. And they are much more apt to put differences aside for a shared cause.
In 2019, Porter Novelli interviewed Gen Z'ers age 14-22 about key issues that they expect companies to address. The chart below summarizes those issues.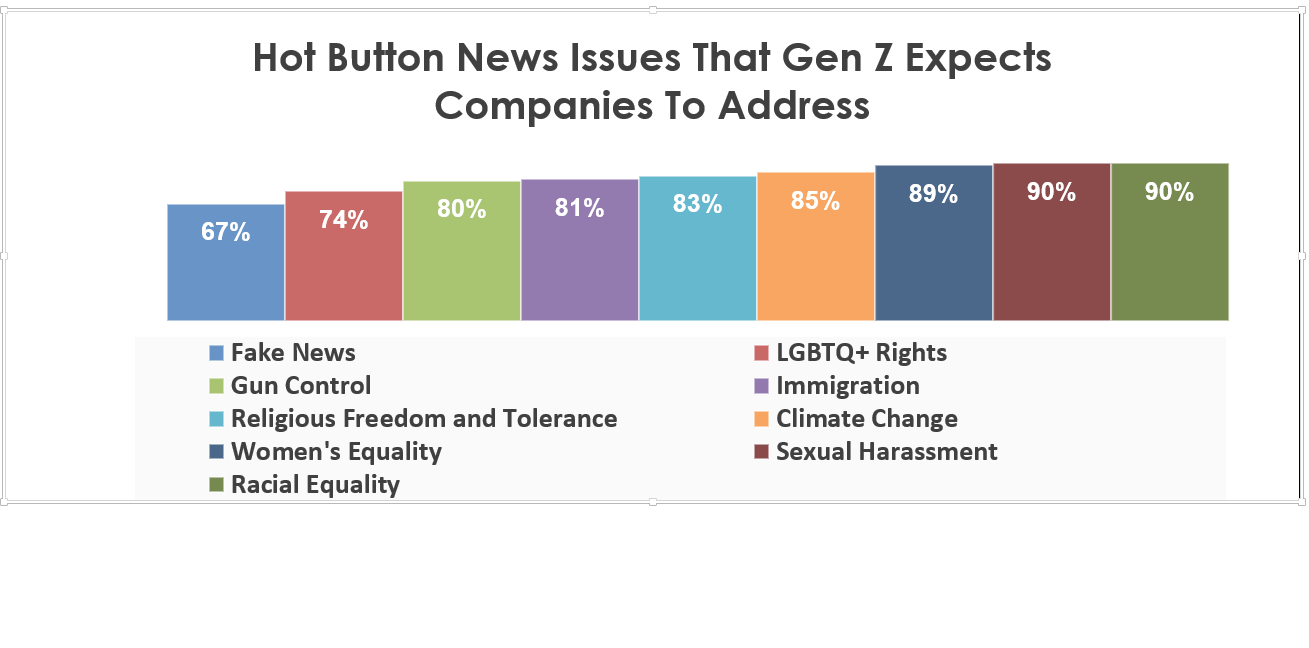 Other findings from the Porter Novelli study include an overwhelming belief that companies must act to help society and the environment, Gen Z's lack of trust in corporate commitments, and their use of social media to voice their support (or lack thereof).
How much impact can this younger generation have? The answer is ALOT. Generation Z has been actively building its voice over the past several years and together with the events of 2020, these two drivers have been powerful enough to force the nation's top executives to listen, as the many examples across industries illustrate below.
3. Major corporations across industries committed billions of dollars to Environmental and Social initiatives.
In April 2020, Harvard Business Review released an article entitled "Coronavirus Is Putting Corporate Social Responsibility to the Test" that stated the following:
And that is just what they did. Senior leaders of the world's largest corporations announced corporate purpose goals. They also provided detailed plans with billion-dollar commitments and even devoted sections of their websites to showing progress. Below are just a few examples of major corporations across industries that announced major social initiatives in 2020.
"a new $1 billion climate innovation fund to accelerate the global development of carbon reduction, capture, and removal technologies" – Brad Smith, President, Microsoft (Jan 2020)
"we issued $5.75 billion in sustainability bonds, the largest sustainability or green bond issuance by any company in history, to fund ongoing and new environmentally or socially responsible project." Google, Environmental Report 2020
15 Percent Pledge: "Black people in the U.S. make up nearly 15% of the population. So, we are calling on major retailers to commit a minimum of 15% of their shelf space to Black-owned businesses."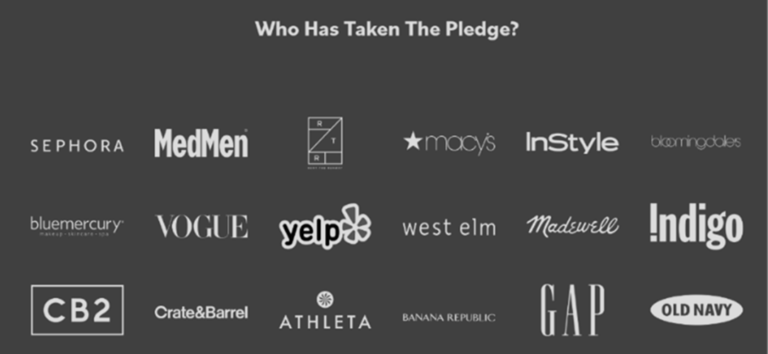 "Sephora is building on its 15 Percent Pledge — the commitment to dedicate 15% of Sephora shelf space to Black-owned companies — with the goal of doubling its current assortment of Black-owned labels by the end of 2021. -National Retail Federation, Feb 2021
"Ulta Beauty has pledged to invest some US$25 million in diversity and inclusion commitments for 2021." -Global Cosmetics News
" a goal of raising $100M over the next 10 years to help give people access to mental health services….and starting with Rare Beauty's very first sale, one percent of our annual Rare Beauty sales will go directly to the Rare Impact Fund." –Rare Beauty Website
"In 2020, we have committed to increasing our Black workforce by 30% by 2024. "The firm will double its portion of senior leaders who are Black from its current 3% share. BlackRock's workforce is currently 5% Black and it employs more than 16,000 people worldwide." –Blackrock, CEO Larry Fink (June 2020)
How Amazon has evolved its platform to support brand building
So what is Amazon doing for its brands and its consumers? We have all witnessed the explosive growth of Amazon, which became one of the biggest winners of 2020 as consumers hastened their move to online purchases. As the below chart shows, Amazon Prime penetration shot up across all age groups during 2020 – hitting over 80% of Gen Z and Millennial Internet Users in June, 68% of Gen X and 60% of Baby Boomers and older Americans.
Amazon Prime Penetration Among Internet Users by Age Group – June 2020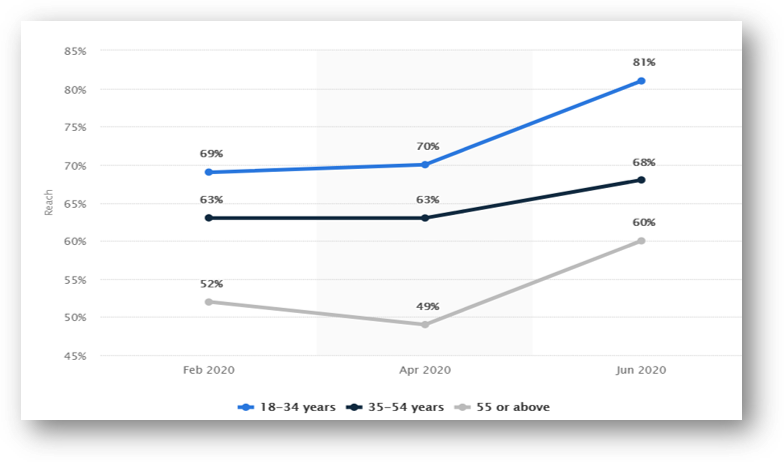 Until a few years ago, Amazon placed little emphasis on the brand equity of its sellers. Consumers could not tell the difference between a brand and a discount reseller as there existed no features to tell the real thing from a fake. Resellers (both authorized and unauthorized) often dominated search results and won the "buy box" based on price. While the reseller issues still occur, the marketplace has definitely evolved.
To support its third party sellers – who make up 55% of all Amazon sales as of Q4 2020 – Amazon began to expand its features in 2019 The goal was to provide a way for brands to distinguish themselves by registering and publishing proprietary images and content. Brands who have registered on Amazon's Brand Registry have access to features that are essential for building their brands on Amazon – Enhanced Brand Content, A+ Content, A/B Testing, Stores, Brand Analytics and the Brand Dashboard. Amazon even launched Category pages in 2020 for black-owned, women-owned and sustainable businesses.
These features allow purpose-driven brands to tell their stories and build communities of customers on the platform. Below are the four key brand building features that we will discuss in detail.
Storefronts give brands an opportunity to create their own curated brand destination on Amazon. For the consumer, the brand becomes the retailer. Shoppers can navigate to the home page and other pages within the storefront to learn about product lines and purpose. They can choose to follow the brand and get notified when there are new product launches. Brands can drive shoppers to their storefronts through Amazon sponsored ads or through their own email and social media channels.
Clark's Botanicals is a purpose-driven beauty brand and a Market Defense client. It has an emotional brand story that, together with plant-based products that really work, has helped it build a hyper-loyal fan base. Francesco Clark, the victim of a diving accident in his 20's, was left paralyzed below the neck, and unable to sweat.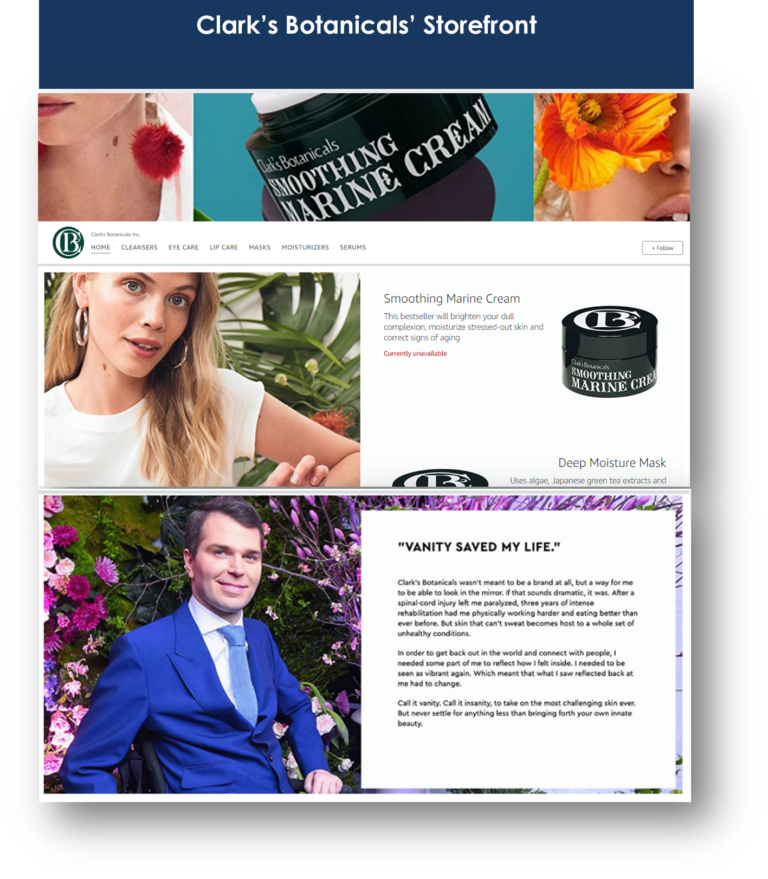 Clark's Botanicals' Storefront
Francesco and his father developed Clark's Smoothing Marine Cream to treat the dry spots, oily spots, redness, breakouts, and dull skin tone that resulted from the paralysis. Francesco has been committed from the start to supporting the Christopher & Dana Reeve Foundation for spinal cord research and improving the quality of life for individuals and families impacted by paralysis.
Through Clark's Botanicals' storefront, Clark's Botanicals can share its unique brand story, product pictures, comparison charts, customer testimonials, videos, and more. Amazon shoppers who are or become avid customers can "follow" the brand by clicking a button on the storefront's home page to get notified of upcoming product launches – and share the URL with friends and family on their social channels.
In March 2020, Amazon combined two features – Enhanced Brand Content and A+ Content – to help brands create more visually appealing product pages. Through the A+ Content Manager in a Seller's Account, Amazon provides "modules" that brands could use to showcase product images and messaging on their Product pages. Although this content is not used by Amazon for its own search functionality, it is searchable through Google and other outside search engines. So, if you have keywords in your A+ content, you could see an increase in traffic coming from organic search. (Source: Operational ROI)
Below is a product page that Market Defense bult for Dr. Dennis Gross' Alpha Beta Peel. Dr. Dennis Gross utilizes the Enhanced Product Description section to showcase its brand images, messaging, before/after pictures, a chart of the brands' full product line, as well as a video from Dr. Gross and FAQs.
Dr. Dennis Gross' A+ Content / Enhanced Brand Content

In August 2020, Amazon launched a new feature called Brand Stories. Brand Stories allow a brand to publish its unique story across its product pages. Amazon provides a specific format to share the story (see below) – which is included as a module across designated product pages.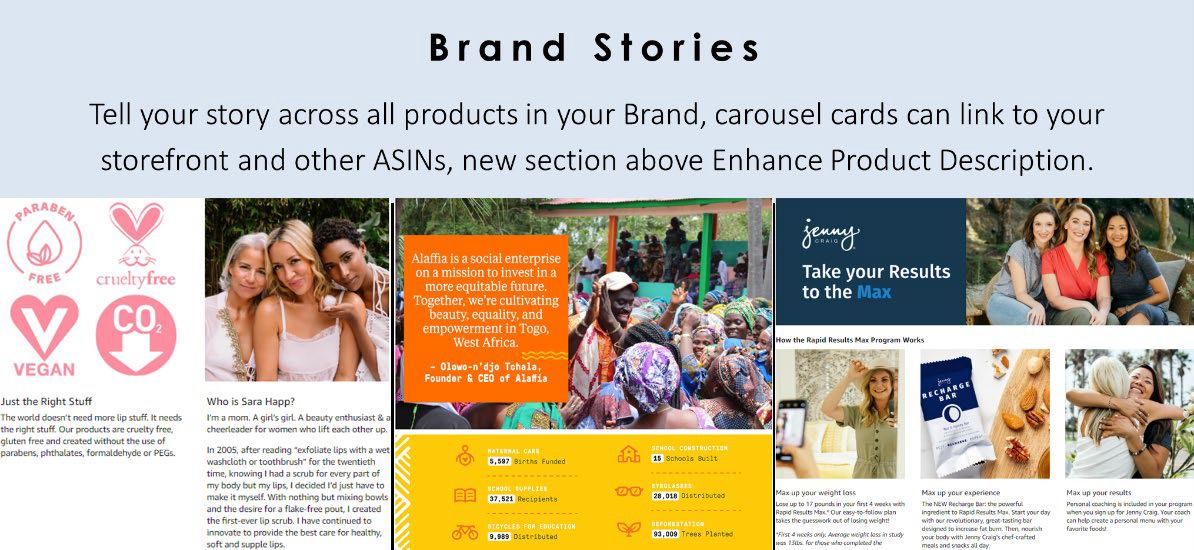 Tell your story across all products in your Brand, carousel cards can link to your storefront and other ASINs, new section above Enhance Product Description.  Amazon allows you to upload pictures, assign keywords with the images to help drive organic search, and determine the products (ASINs) to which you want the Brand Story applied.
The template has three questions:
How did we get our start? What makes our product unique? Why do we love what we do?
While this is a great feature to help promote a compay's unique purpose on their product pages and drive brand trust and loyalty, it might not be the best choice for every brand. Because Amazon only allows a set number of "modules" on Enhanced Brand Content, and the Brand Story is considered a module, it might not make sense for a larger brand. Instead, a larger brand might decide to direct shoppers to its storefront where they can get a much more detailed view of the company and its product line – and use the modules on EBC for product content. Plus, Brand Story will push A+ Content further down the page.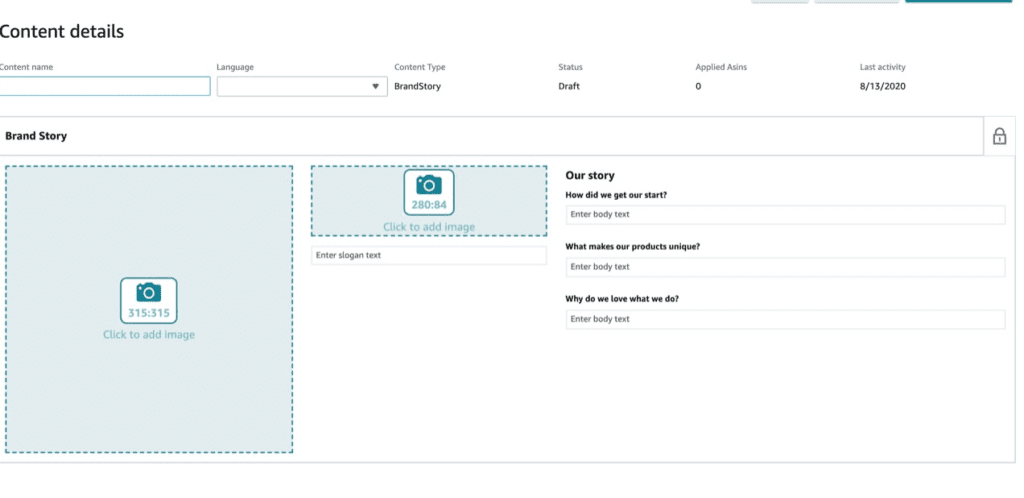 Below is an example of a Brand Story from a purpose-driven skin and hair care brand, Alaffia. Their mission is to invest in a more equitable future by promoting beauty, equality, and empowerment in West Africa and around the globe. Alaffia aims to alleviate poverty and advance gender equality through the Fair Trade of indigenous resources and community empowerment projects.
Not only does Alaffia utilize the Brand Story feature on Amazon, but it also has a consistent Amazon storefront that mirrors the image and messaging from its website (alaffia.com)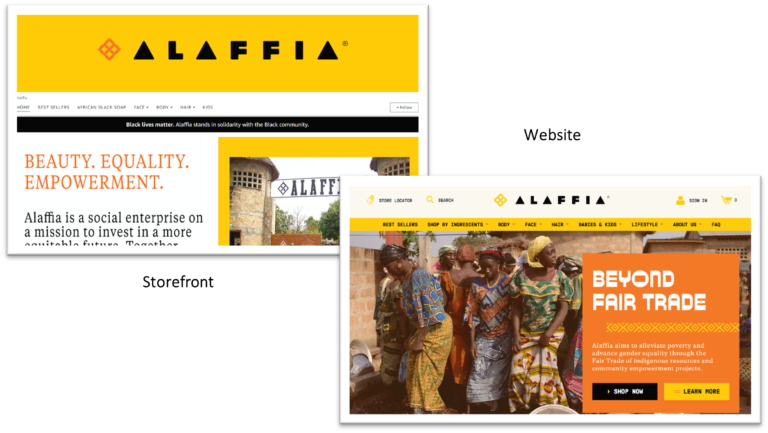 4. Amazon's "Support Small" Initiative Feature Categories
In 2019 and 2020, Amazon spent over $30 billion in logistics, tools, services, programs, and people to foster the growth of its sellers, of whom over 50% are small businesses. Amazon Launchpad, founded in 2015, supports new brands, entrepreneurs, and startups in overcoming many of the challenges associated with launching new products. In 2021, Launchpad will give $10,000 grants to two small businesses per month in 2021 to invest in their businesses, on or off Amazon.
Within Amazon's curated category pages, it provides specific pages for shoppers to "Meet the Business Owners" as well as purchase products. Through these pages, Amazon is driving higher exposure for these underrepresented brand categories.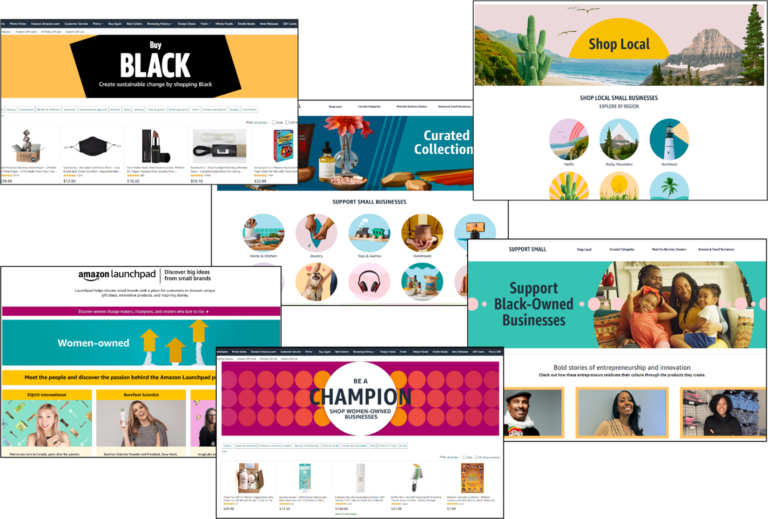 Driving brand equity and financial value on Amazon
Knowing where to begin on Amazon is the hard part.
A brand has three selling options.
1P – It can join Vendor Central and sell directly to Amazon, giving up all control over pricing, advertising, marketing dollars, with no visibility into how they spend it. Although Amazon says it will help with content and unauthorized resellers, it's tough to enforce. Average margin is below 40%.
Sell through authorized resellers, including Amazon specialists – This option provides some capabilities to better manage the brand on Amazon than brands have internally. However, the economics are the same as selling to Amazon and resellers can be concerned more about sales than protecting the brand and driving overall financial value for the brand. The brand becomes a vendor for the reseller. Average margin is below 40%.
3P – Establish a direct brand seller account. This allows the brand to account for retail-valued revenue and drive higher net margins. In order to manage the complexity of this type of operating model, brand work with an execution-focused agency (like Market Defense) that handles everything for the brand from set up, advertising, logistics, account management – and importantly, brand protection. Average margin is around 60%.
Our clients have seen incredible success by having their own seller account in partnership with Market Defense. They record retail revenue, enjoy higher margins, and receive more support without a burden on their own team. Our approach – which we highlight below has delivered the following returns:
3X average revenue growth after 24 months (this is pre-pandemic; 2020 growth was significantly higher),
90% of unauthorized resellers removed – and kept at bay – after 60 days,
6X average return on advertising spend, and
Less time and internal resources spent on a complex and everchanging channel.
Our five-step 3P approach includes:
Build the infrastructure
Incorporate brand assets
Determine the ideal advertising strategy and budget (which differs depending on where the brand is in its Amazon lifecycle)
Eliminate unauthorized resellers and win the buybox
Deliver ongoing analysis and optimization recommendations

1. Build the right infrastructure
The first step in delivering enterprise value is to make sure the 3P account is set up properly. If a brand is on vendor central (1P), this also includes running off Amazon's current inventory and sending Amazon a letter, making them aware of the change. We also recommend sending letters to current resellers alerting them that the brand does not want them to sell your products on Amazon anymore. This can be a tough pill to swallow, given resellers can drive a significant amount of revenue. But, this is an important step in taking control of your brand on Amazon. Without unauthorized AND authorized resellers, you will have control. There will be no concerns about discounting, poor reviews from reseller performance or outdated inventory issues. You will own the buybox every time.
2. Incorporate the right brand assets
The second step is making sure you are set up on Brand Registry and all of your A+ content is assembled, and your storefront and product pages are built to best convey your brand message and keep consumers engaged. Developing a consistent presentation in types and number of images, depth of descriptions, use of video across all ASINs is essential to building the overall brand. For 1P sellers, Amazon only makes this investment in top sellers, further handicapping up-and-coming items. Agencies like Market Defense can help you apply best practices across the entire catalog to drive conversion. In addition, Amazon has added A/B testing to its Enhanced Brand Content (EBC) that will allow you to continuously test and learn.
3. Determine the right advertising strategy and budget
Market Defense is always asked – what is the right amount of money to spend on advertising? There's no short answer to this question. Marketing spend – the type and the amount – needs to be aligned with brand objectives. Is the brand seeking to grow topline vs. margin? Is it acquiring new customers or deepening relationships with existing ones? Is it building share of voice in certain categories? Brand with a complex marketing strategy that meets a range of objectives typically spend 6-12% of revenue on the platform. And see a blended return of 5-6x. The goal for this step in the process is to determine the right strategy based on what the brand is trying to accomplish on Amazon right now – and how quickly. It can change and it will. But, what won't change is the fact that brands have to "pay to play" on Amazon. They won't grow without spending on advertising – the marketplace is too competitive.
4. Eliminate unauthorized resellers and own the buybox
This is where most agencies have little experience – and where Market Defense excels. Our Founder and CEO, Chad Annis, was an authorized reseller on Amazon 20 years ago and learned what NOT to do in order to preserve brand equity. He witnessed first-hand how unauthorized resellers could come in and destroy a brand's value. He took that knowledge and started Market Defense in 2017, initially as an Amazon brand protection agency – and now as a full-service Amazon agency. Brand protection is the foundation of our business and involves a proprietary process for eliminating resellers and keeping them from harming your brand reputation and financial value. And for a purpose-driven brand, this should be one of the most important decision factors in choosing an Amazon partner. We know that – and so do our clients.
5. Deliver ongoing analysis and optimization recommendations
Our relationship with every client is a long-term partnership. We have short-and-long-term growth and margin goals for every brand in our portfolio. We use sophisticated data and analytics tools to help our clients project inventory requirements, measure brand and product performance, understand consumer behavior, assess marketing impact and quantify customer lifetime value relative to acquisition costs. This support long-term strategic brand growth and maximizes the financial value of the business on Amazon.
We know your brand purpose is important to you – it's just as important to us.  
We'd love to talk to you about your business on Amazon.  Feel free to reach out to me at vanessa@marketdefense.com.
Or, if you'd just like to learn more about how we are building brand value on Amazon, please visit:  www.marketdefense.com/success.